I know it seems strange to go dress shopping before we even had a venue, but out of all the wedding tasks, dress shopping and cake tasting were easily the two I was most excited about.
I knew going into it that I wanted a simple, satin dress.
I didn't care for the vintage-y lace look, I didn't want a ball gown, and Dude's one dress request was that it "look like a dress."
Umm…ok…no problem, my wedding dress will look like a dress.
Dude, if you're reading this, time to close your browser and go take Pepper and Zeke for a walk!
The rest of this post is not for your eyes!!
Just as a warning, do NOT purchase anything from the source website for this dress.
If you look up reviews for them, you will find a bunch of disappointed brides with terrible wedding dress knockoffs.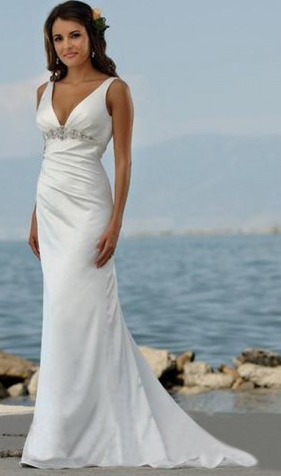 My next dress was Jennifer Aniston's wedding dress in Just Go With It.
You'd think a simple satin dress like this would be easy to find, right??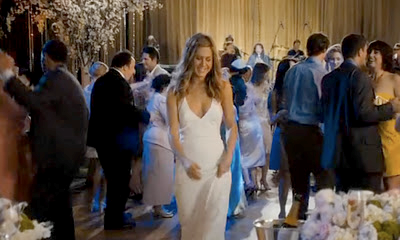 Wrong!
The first bridal shop I visited was when I was in my hometown
We weren't allowed to take pictures in the shop, so unfortunately there is no photographic evidence of all the terrible dresses I ended up in.
There was one favorite, but I knew Dude would hate it - and the feathers it had all over the bodice.
It was gorgeous, just not for me.
The next shop we stopped at was David's Bridal.
I tried on what felt like 542,989,054 dresses and out of all of them, there was one that everyone loved.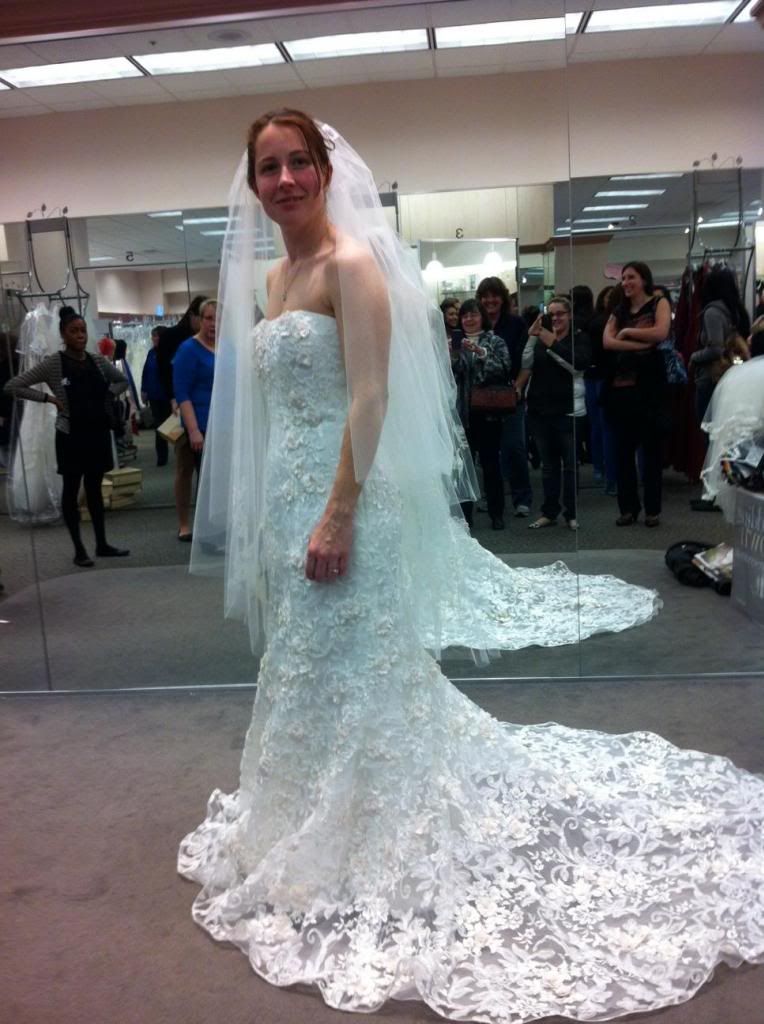 Personal Photo
Everyone except me.
I knew it was not "my" dress but it made my Mom cry and my three bridesmaids got giddy.
So I left the shop disappointed and almost considering getting the dress just to please everyone else.
Cut to a few months later, I went dress shopping again, this time in Pittsburgh at Bridal Beginning.
Here were the winners from that night.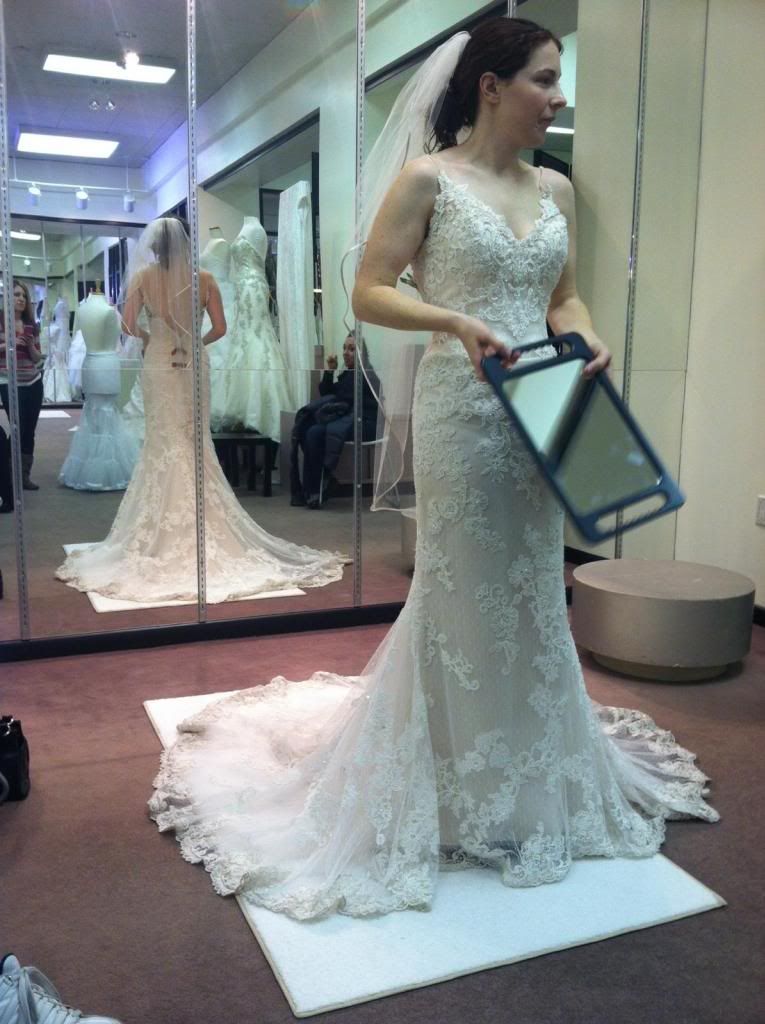 Personal Photo
Personal Photo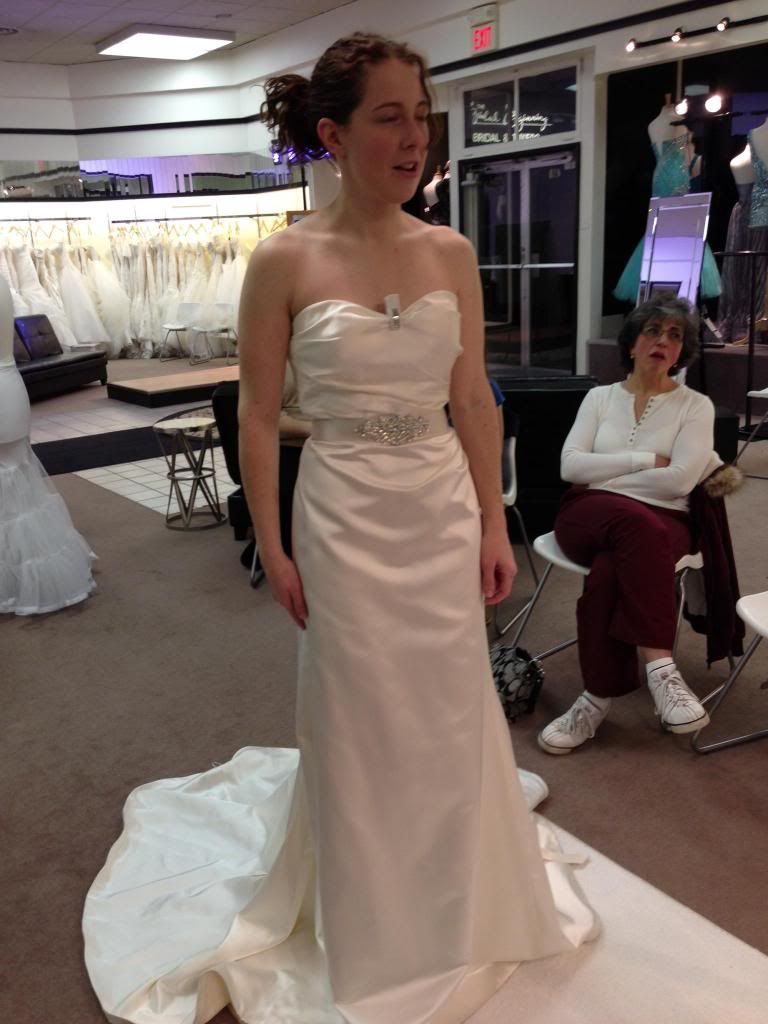 Personal Photo
The satin one was obviously my favorite, but everyone else loved the lace one.
Surprisingly enough, I liked the lace one too – how could you not with that dramatic train!!
But I knew going in that I wasn't going to buy a dress without my Mom being there, so I asked the consultant to note the dresses in my file and then we'd come back with my Mom the next time she was in town.
The next (and last!) dress shopping excursion included just my Mom and one of my MOHs.
We went to Alfred Angelo where I tried on ALL of the Disney Princess dresses knowing I wasn't going to like any of them but who cares, I wanted to wear an Ariel and a Belle dress!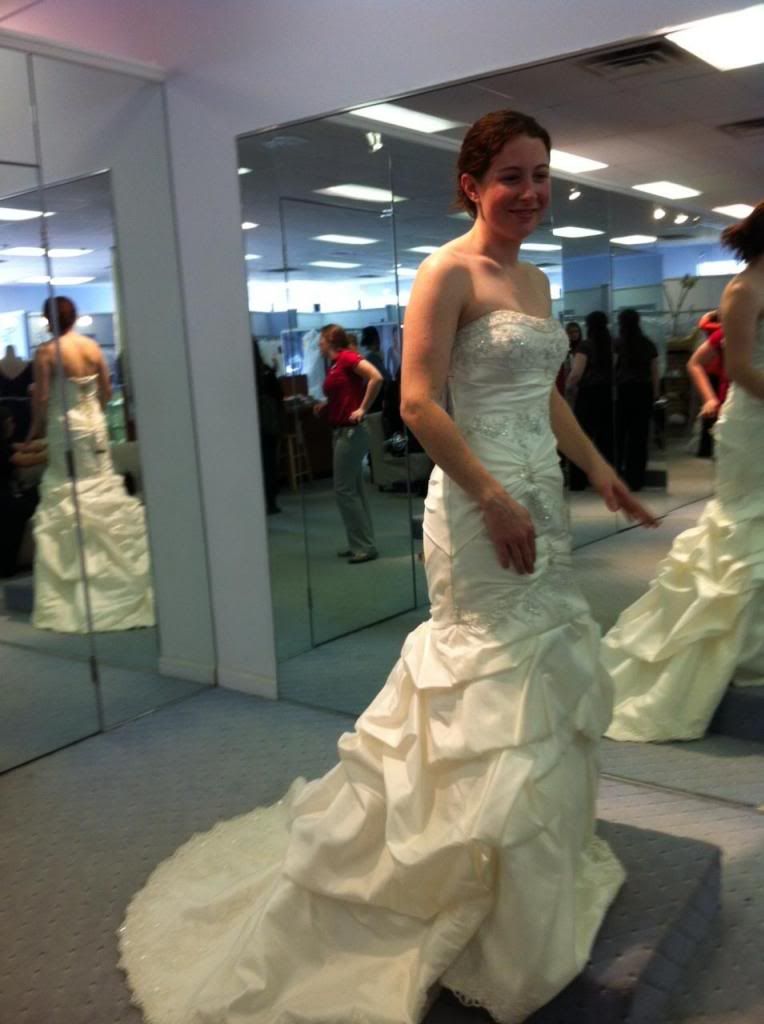 Personal Photo - I think this is Jasmine?
We didn't find anything at Alfred Angelo, so we headed back to the shop in Pittsburgh to show my Mom the lace and satin ones I liked from my last shopping trip.
She didn't like either.
She said the lace one looked like a nightgown and the satin one was about $1,000 over my budget, without factoring in the cost of alterations.
But then my consultant brought out my dress.
Putting it on, I got misty-eyed imagining Dude seeing me in it for the first time.
I loved it, it was within my price range (barely!), all that I needed was the thumbs up from Momma.
She wasn't convinced until the consultant "jacked me up" as they say on the bajillion Say Yes to the Dress episodes I've watched.
Once the veil was on, Mom got a little teary and said just seeing how happy I was in the dress made her decision.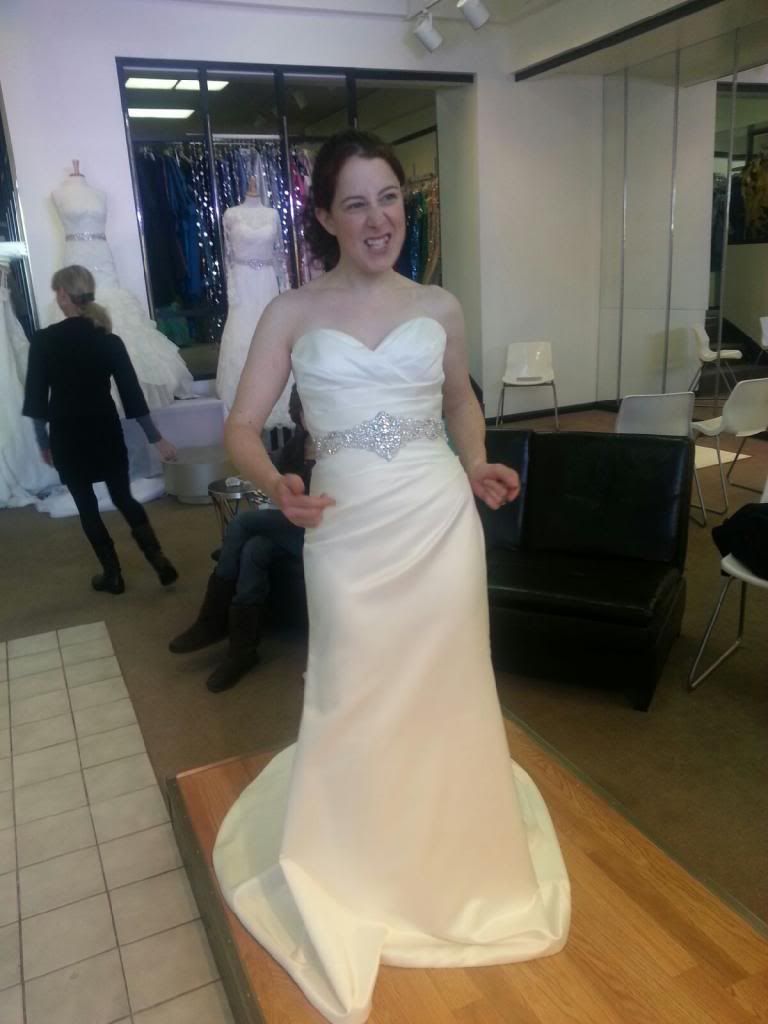 Personal Photo
I mean, come on, if that isn't a look of victory, I don't know what is!
The only thing that held me back from making my decision was this bad boy.
Wanna guess how much that (admittedly gorgeous) belt is?
That's 1/3 of my budget for my dress, shoes, veil and alterations! But if we're being honest, it made the dress. The dress is gorgeous, but having that diamond-shaped bling at my waist accentuated the sweetheart neckline perfectly.
So we left the shop, with promises we'd be back for the dress and the belt.
How many dresses did you try on before finding "the one?"
Was there a dress that your entourage loved but you hated?
Was there a ridiculously expensive accessory that kept you from pulling the trigger when you found you dress??
Tell me I'm not the only one freaking out about a $500 belt!