Alright kiddos – I've got a dilemma.
I know for sure I am getting my makeup done on wedding day.
I rarely wear makeup on a normal day, so I just don't think my skills are up to par for such an important day.
So yesterday I started looking into local makeup artists who travel.
I was thinking when I first started Googling about how cool it would be to pay the artist to do the entire bridal party's makeup.
I thought, "Oh what a fun experience, I bet my bridesmaids would all love it!"
Then I thought, "Well, my Mom and FMIL will probably be getting ready with us so I'd have to include them too…And then what about Dude's sisters?"
Guess what - getting your makeup done AIN'T CHEAP!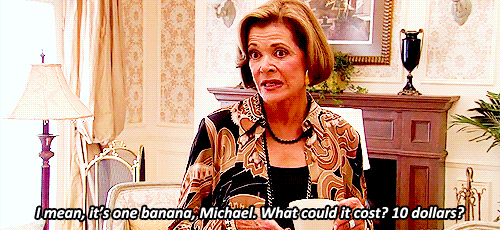 I'll probably spend about $125 for my makeup alone, and then between $60 and $70 per bridesmaid or Mom.
So at minimum, I'll be shelling out at least $600 + tip for everyone to have their makeup done.
At a standard 20%, I'm looking at close to $750 for makeup.
Side note - I'll be covering the cost for anyone who wants to come with me the morning of the wedding to get their hair done.
On top of that, I'm also planning on giving each bridesmaid a custom necklace and some other goodies as a "thank you for being the best bridal party ever" gift.
Don't yell at me, I know these last 3 paragraphs seem like they're all about putting a value on my girls.
I'm really not trying to do that!
Ugh, but it's totally coming across that way…
Let me put it this way - I'm happy to spend whatever it takes to tell all six of my girls, my Mom, and my FMIL that I love and appreciate everything they've done for me this past year and a half.
But, I need your advice!
What's the right thing to do?
Should I just go for it and pay for all the girls and Moms to have their makeup done?
Or should I tell everyone that a makeup artist will be on site and they can pay to have their faces done if they want?
Would it be tacky if I paid half of the cost for each girl to have their makeup done and had them cover the other half if they want the service?
Do I say screw it and just get my makeup done and that's it?
Is it even worth it to get my makeup done?
Have any of you brides out there lived through either of these scenarios?
One more picture for funsies because it made me laugh.