As you know, Dude and I got engaged in December. But, what you don't know is that until May or so, we pretty much ignored wedding planning all together.
Except I did start a Pinterest wedding planning board.
That counts for something, right?
The only reason we procrastinated for six months is because we just couldn't figure out what kind of wedding we wanted.
Once a week or so, Dude would say to me – "Did you figure out what kind of wedding you want yet?"
I'd say – "No, did you?"
He'd say no and we'd go back to watching DVR'd episodes of NCIS or The Walking Dead or I'd go back to baking and he'd go back to browsing eBay for vintage Newcastle bar pieces.
Or more likely – I'd go back to playing on my phone, where I'd probably be on Pinterest.
You know, planning our wedding.
We tossed around all kinds of ideas for our wedding.
My first thought - due to what I was sure would be a massive guest list - was the full weekend wedding.
We'd have a small intimate ceremony and reception for immediate family and friends on Friday which would be followed by a big informal party on Saturday for everyone.
Dude hated this idea!
He said he thought the party on Saturday seemed more like a "Give Us Presents" party.
Then we thought we could have a full destination wedding in Hawaii (or somewhere else warm with a beach) with only our immediate families.
And then coming home and having an informal reception in Pittsburgh.
I nixed this one because I couldn't imagine getting married without my bff's by my side.
Then there was a semi-destination wedding in Atlantic Beach, NC.
Getting closer…I could definitely do a beach wedding!
I grew up visiting Atlantic Beach every summer and this was the first place where Dude and I vacationed together, so I loved the idea of getting married in such a personal place.
There was also the option of getting married in the town where I grew up, on the other side of the state.
I'll tell you my Mom pushed for this one
hard.
But, even though it would have been much cheaper, it just isn't my home anymore.
Pittsburgh is my home, Dude's home, and where we belong.
So this one was really out before it was even in.
Sorry Mom!!
Then there was what we're calling the Big Blow Out wedding.
That's the one where we save all our pennies for the next 15 months and invite our full guest list to a wedding in Pittsburgh and as Dude would say, do it right.
The Big Blow Out wedding was my favorite.
Call me old fashioned, but when I envision my wedding day, I see my BFFs getting ready with me the morning of, I see me dancing with all our close friends, and I see Pittsburgh as the background.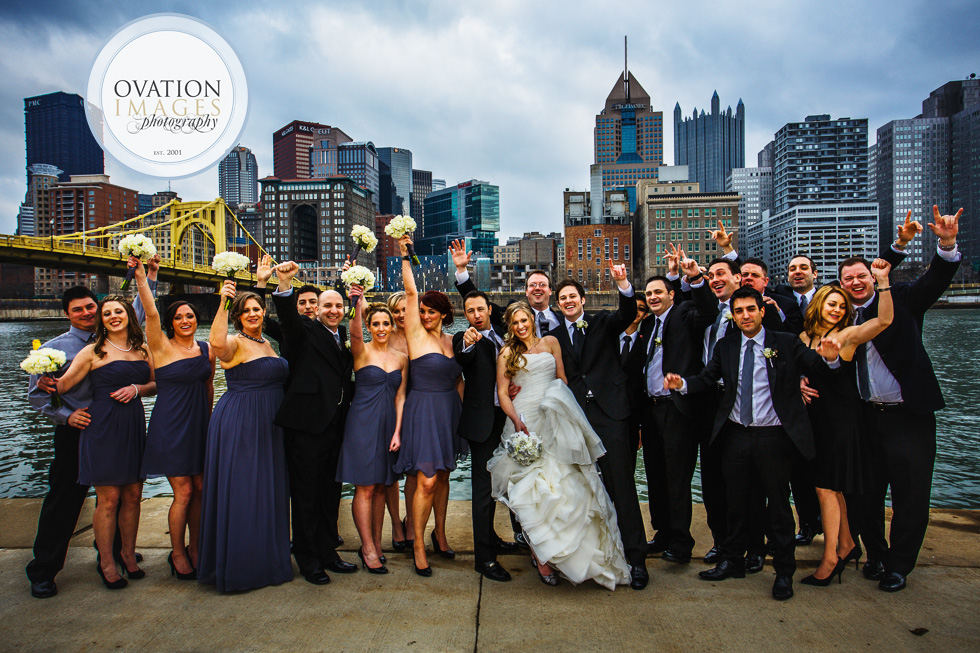 Ugh for real, don't you love this picture?
It made me squee the first time I saw it.
So, what about you guys?
Did you put off wedding planning at all?
Did you struggle with picking what kind of wedding you wanted?