It all started when Dude and I started talking about our rehearsal dinner one Friday after work.
Here's how the conversation went –
Him:
How many people do you think we'll have to invite to the rehearsal dinner?
Him:
75?!
ARE YOU FREAKING SERIOUS!!
Me:
Uhhh…yeah…you have a ginormous family…remember?
So we tallied up the total invites and if we just include our immediate families, wedding party, and our grandparents, the total was 53.
This didn't even include the out of town guests Martha Stewart suggests you invite.
Once we added them, their significant others and kids, the total went up to 74.
I could see Dude starting to sweat and get anxious.
He said he was planning on budgeting $50 a person for the rehearsal dinner.
So we're looking at roughly $4,000 for the rehearsal dinner alone.
That lead to tallying the full costs for the wedding.
We had done this ages ago when we picked our venues; but to be honest, I never picked up a calculator.
Apparently our basic math skills are lacking.
The number we came up with was a THIRD of the value of our house, with nearly half of that coming from our savings.
I never looked at it that way and - I know this cliché is overdone, but bear with me – it hit me like a ton of bricks.
I was so blown away by the amount of cash we were putting in to one day - five hours, really - that I was pretty much silent for the rest of the night.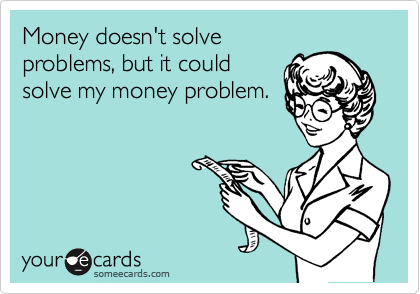 Dude and I spent the rest of the weekend thinking, trying to figure out how we could make it out of this wedding in the green.
We came up with four ideas:
Cut down the guest list
Come to peace with the money we'd be spending
Have a small destination wedding
Change the venue and get the cost-per-person to something more manageable
Three weeks later, we finally came to a decision.
The first week we spent researching a destination wedding with a big casual party when we returned.
The second week I spent trying to convince Dude cutting the guest list down wouldn't be such a terrible idea.
The third week I spent researching every venue within a 100-mile radius of Pittsburgh, calling around, getting quotes, and finding out that the venue flexibility I had ages ago when we booked with the DoubleTree and HHC was now significantly reduced.
But we did finally decide and the more I think about it, the more I love our new wedding!
It seems much more "us" and even better, we are significantly reducing our out-of-pocket expenses!
I'm sleeping much better and Dude doesn't get that panicked look in his eyes whenever I mention that we really need a new mattress.
Can you guess what we decided?
Is anyone else out there like me and had a panic attack once you realized how much your wedding was costing you?