I
know
hope this will be the first of many DIY projects!
While browsing Pinterest looking for engagement shoot inspiration, I came across these photos.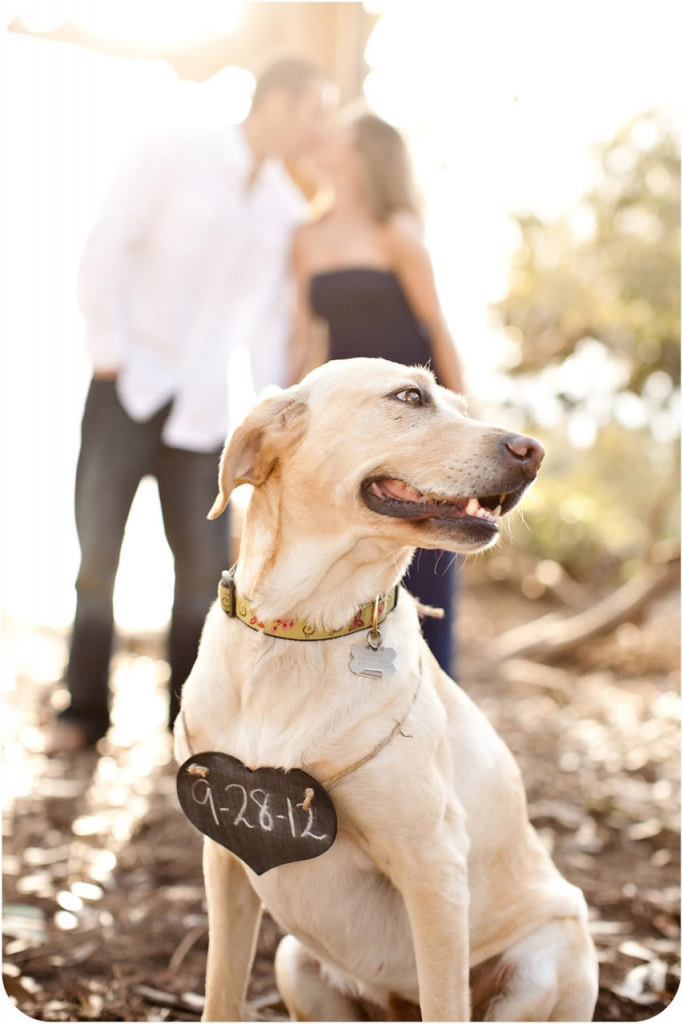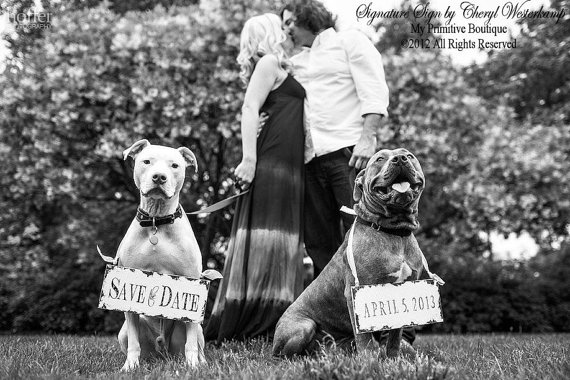 Anyone who knows me and Dude knows that we love our dogs, Zeke and Pepper like no other.
Pepper is our problem child and Zeke is the angel but we wouldn't trade them for the world.
So after seeing those inspirational photos, I knew I wanted Zeke and Pepper involved in our engagement shoot in some way.
I really loved the idea of the dogs in the foreground with some kind of Save the Date signs and us blurred out in the background (I'm sure there's a technical term for this).
I took a trip to Michael's and found these little wood placards.
Plaques?
Wood sign things.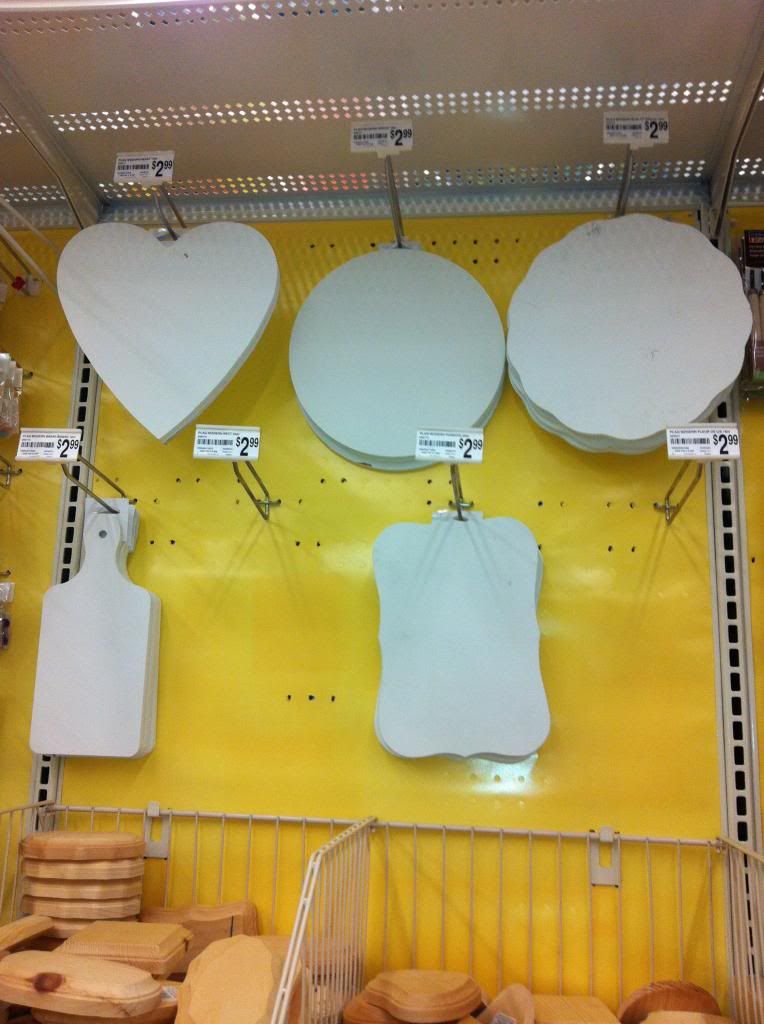 Personal Photo
I liked the rectangular one with the flourishes best, so I picked up three of them and a couple of white Sharpie paint pens.
I originally wanted chalk pens but apparently no craft stores in my area sell them and I'm impatient so I ended up with paint pens.
Whatevs.
I took them home, gave them a quick sanding and then painted half of one with chalkboard paint and left the other half white.
Then I played around with the paint pens and some black paint to see which I liked best.
Personal Photo
Dude and I both liked the chalkboard paint better than plain white, so I painted the remaining two with chalkboard paint.
I painted the edges and the front, but didn't worry about the back since no one would be able to see it in the photos!
After letting them dry for a couple hours, I used a 1/4" drill bit to drill two holes in the top for ribbon to hang the signs around P and Z's necks.
I eyeballed this step, but if you're super particular, go ahead and measure it so the holes are centered.
After that was the fun part!
I spent a few minutes looking through my Fonts board on Pinterest trying to find a fun but still readable font and finally ended up with a font called
Clementine Sketch
, courtesy of
Yellow Bliss Road
.
I mocked up two pages in Word, one that said Save the Date and a second one that said 8.2.14 and printed them out.
It took a couple of tries to get the font size right, but eventually I ended up with 80pt.
Next, since my handwriting and artistry skillz are close to zero, I transferred the writing to the wooden sign things using white chalk.
Just color the back of the page you want to transfer with white (or any contrasting color, really) chalk.
Then, flip the page over onto your sign and trace over the writing.
When you lift up the page, the chalk will have transferred wherever you traced!
It's like magic and I honestly did a little happy dance when I saw how well it worked.
Then, either trace over the letters in wet chalk or your paint pens.
I know it's weird to write with wet chalk, but it makes the color much more vibrant once it dries!
If you're indecisive like me, send a mass text to all your bridesmaids asking them whether they prefer the outlined look or filled in.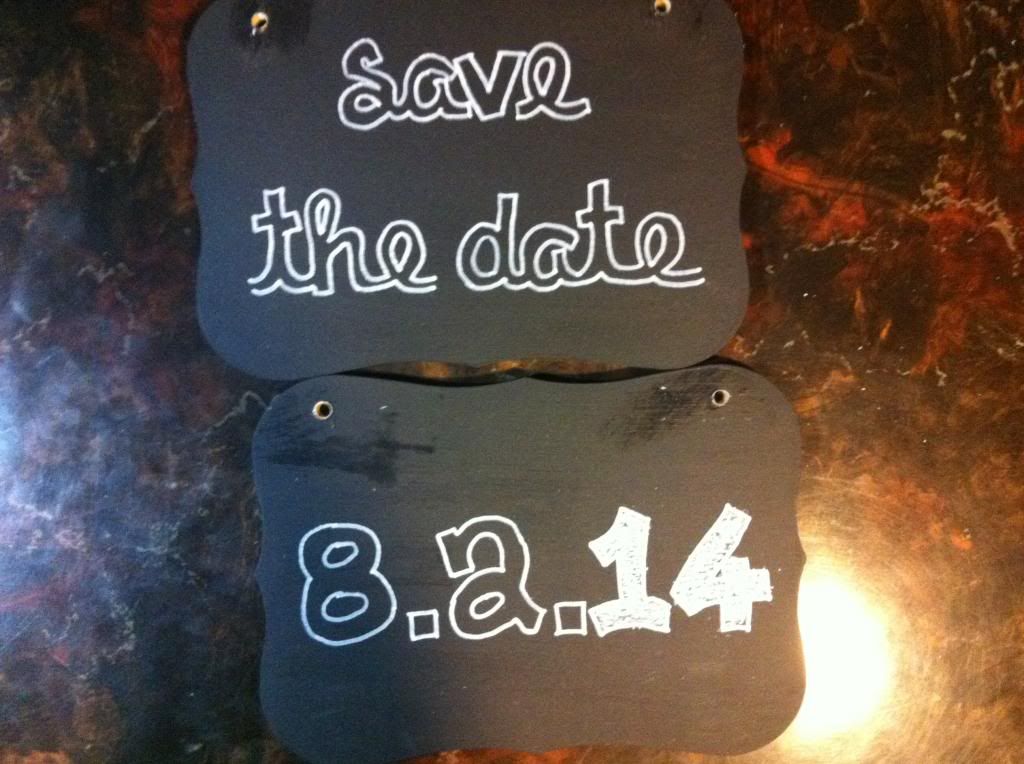 Personal Photo – which do you like best?
All that's left is to measure out some ribbon, twine or rope so the signs will sit around your dog's neck at the right spot!
Ok, I lied, the for real last step is to practice with your dogs!
I practiced a lot with Pepper since she's so neurotic and no so much with Zeke because he's awesome and didn't care if it was around his neck.
But when it came time to take the pictures, Pepper was prepared and knew to sit facing away from me, whereas Zeke was a little overwhelmed at being outside, surrounded by people he wanted to pet him, so it took awhile to get our shot.
Can I recommend American cheese slices as practice time treats?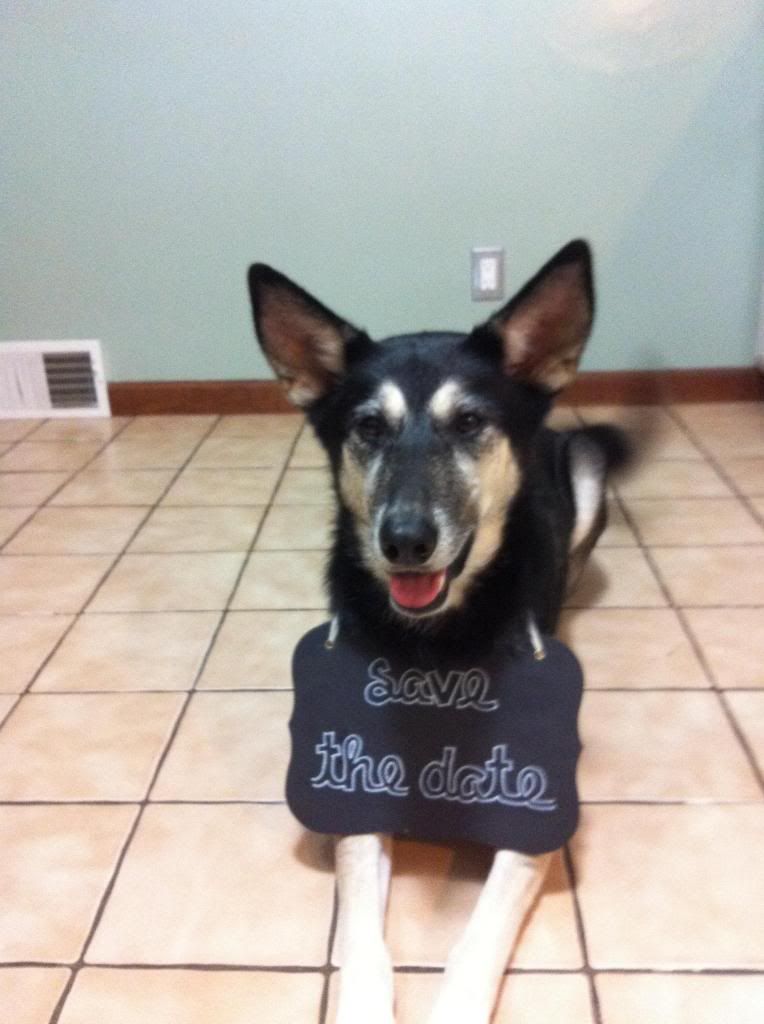 Personal Photo
I know I'm her Mom and totally biased, but isn't she precious?
Look at her tail wagging in anticipation of a piece of cheese!!
So here's to the first of many DIY projects I hope to be sharing with you guys!
If anyone is interested in these signs, let me know I'd be happy to pass them on with a fresh coat of chalkboard paint!
Did you do any DIY projects for your engagement shoot?