After deciding what kind of wedding we wanted, the next step was actually picking a venue for our ceremony and reception.
Luckily (or maybe unluckily??), Dude and I are not church people, so we didn't need to worry about booking a church as well.
I honestly had no idea where to start, so I Googled Pittsburgh Wedding Venues.
After a couple days of using my lunch breaks to research venues, and a bunch of lists that looked like this: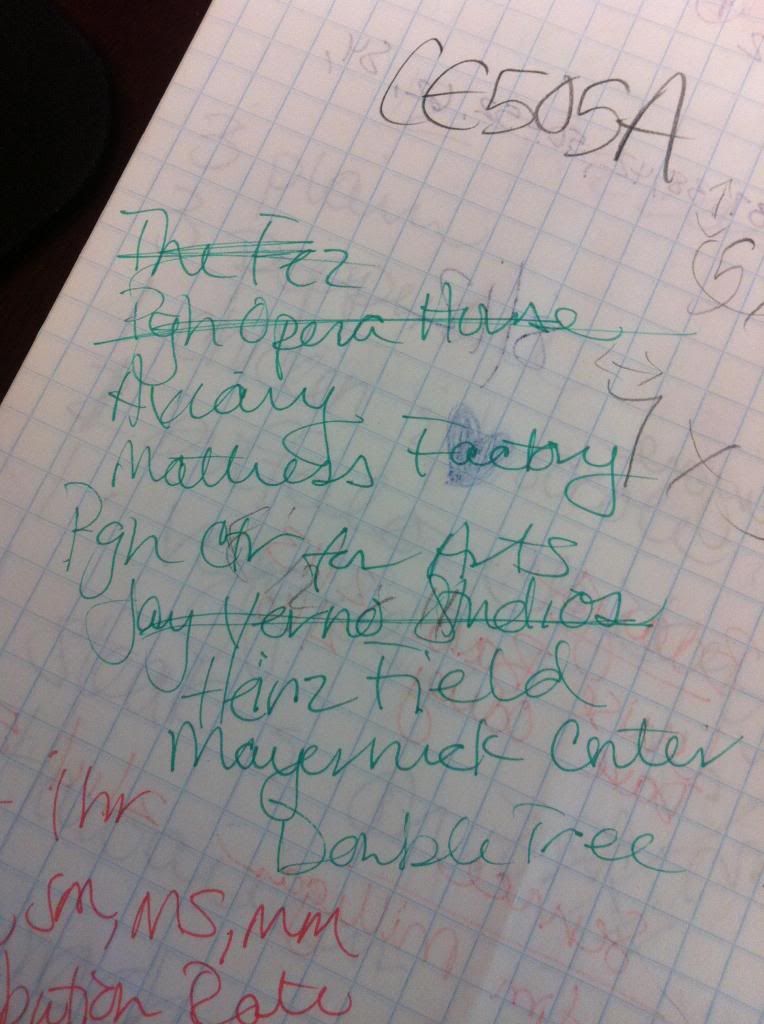 Personal Photos
Here was our final must-see list:
The Chadwick
DoubleTree Airport
DoubleTree Greentree
DoubleTree Meadowlands
Heinz History Center
Sheraton Station Square
Today I'm sharing our "hell nos."
The venues we walked through and knew before we left there was no chance they'd make the cut.
The Chadwick
The Chadwick was the only designated banquet hall-type venue we checked out.
It was a disaster from the start.
Getting to The Chadwick was my first and only experience I've had with Apple Maps leading me off a hypothetical cliff.
It had us driving in circles for 15 minutes until I gave up and called the venue and asked for directions.
Turns out Apple Maps had us turning one street too early!
So anyways, we got there 10 minutes late and we were both already irritated.
Me because I hate being late, Dude because he hates being lost.
We met up with their event coordinator and she showed us to their only ballroom big enough to accommodate 200+ guests.
I was open to it; but Dude was over it before we even stepped into the room.
It was dark, smelled like old milk, and the final deal breaker - there could be up to 5 events going on at one time.
Did I mention that all the guests at up to 3 of those events would have to share one set of bathrooms?
The most positive thing about the Chadwick was their prices (oh LORD their prices are fantastic and include A LOT of great extras) and their gorgeous covered outdoor ceremony location.
We were told when we got there this space was too small to be used for our reception.
Bummer!!
After our tour was over, we immediately agreed this was not the place for us.
But dang, that patio is so awesome!
Sheraton Station Square
All you need to do is take one look at this picture and I think you'll know why we considered the Sheraton at Station Square for a reception venue.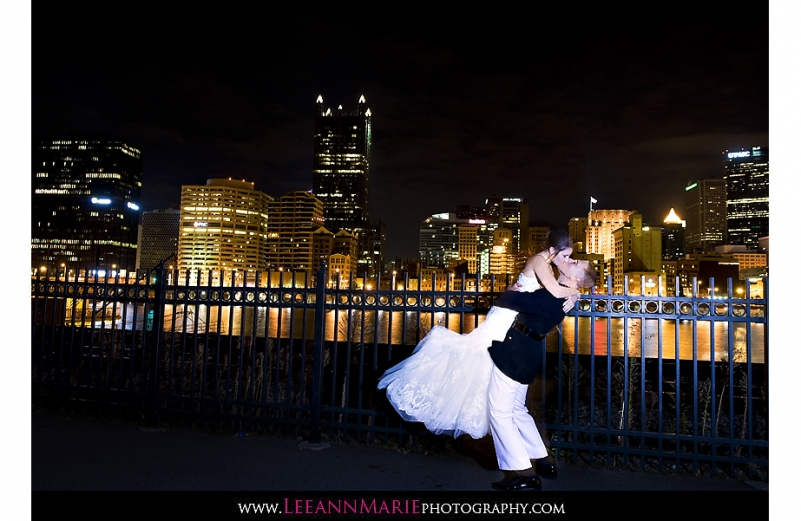 There's no question that I adore my city, but I don't think there's a person in the world that can say Pittsburgh's skyline isn't gorgeous.
When we decided to have the wedding in Pittsburgh, I instantly started imagining pictures like the one above with the skyline I love in the background.
The super cute pose and Navy (I think??) uniform certainly helps though. Ok, photography could be - and probably will be - a whole handful of posts in themselves.
Getting back to the Station Square Sheraton, this photo was taken right outside the hotel.
It's right on the Monongahela River and literally steps from a bunch of super fun after-party spots and an AWESOME Sunday brunch place called The Grand Concourse.
Pittsburgh peeps - let's discuss those homemade donuts at GC's Sunday brunch!
While we were waiting for the event coordinator in the lobby of the hotel, Dude started imagining how awesome it would be if we showed up to the ceremony in a boat.
Cue the "I'M IN A BOAT" jokes.
But, unfortunately, that's where the pros for this venue stop.
First, since the hotel is right in the city, the prices are much higher than we'd seen from all the other places we visited. Plus there's that pesky City of Pittsburgh Alcohol Tax.
Second, their only ceremony option was a looooong meeting room with giant support beams on either side.
The event coordinator tried so hard to sell that room saying most brides "love to walk down such a long aisle."
Yeah, no.
We had two options for ballrooms that will hold all our guests.
The first was actually a series of rooms on the lower level of the hotel.
The first room, which would be used for the cocktail hour, has giant windows that look out over the river…and train tracks.
Great for my train geek friend and his wife; not so great for every other guest when a train comes by.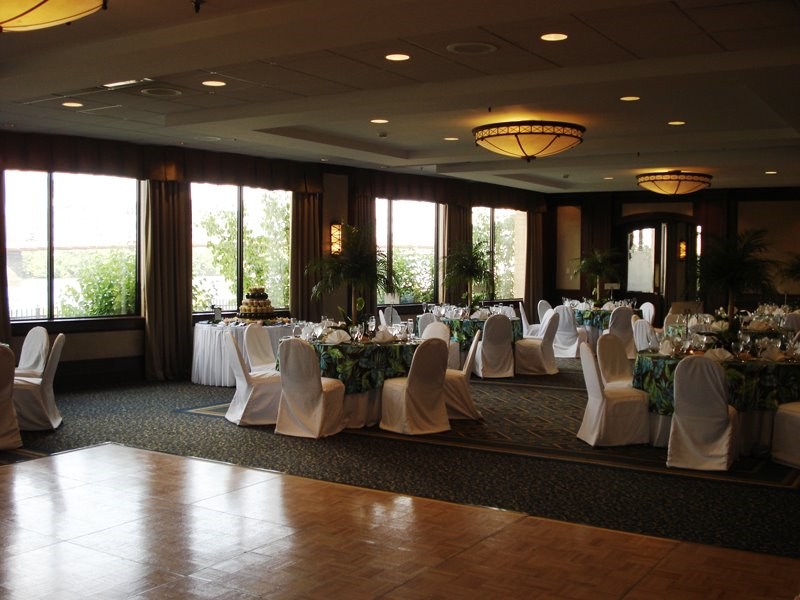 The second room, which would be used for dinner and dancing, was pretty basic and blah.
The only positive here was that since we had to rent both rooms, we'd have an extra room after cocktail hour that guests could use to sit and chat if they didn't feel like dancing.
After that we checked out their main ballroom.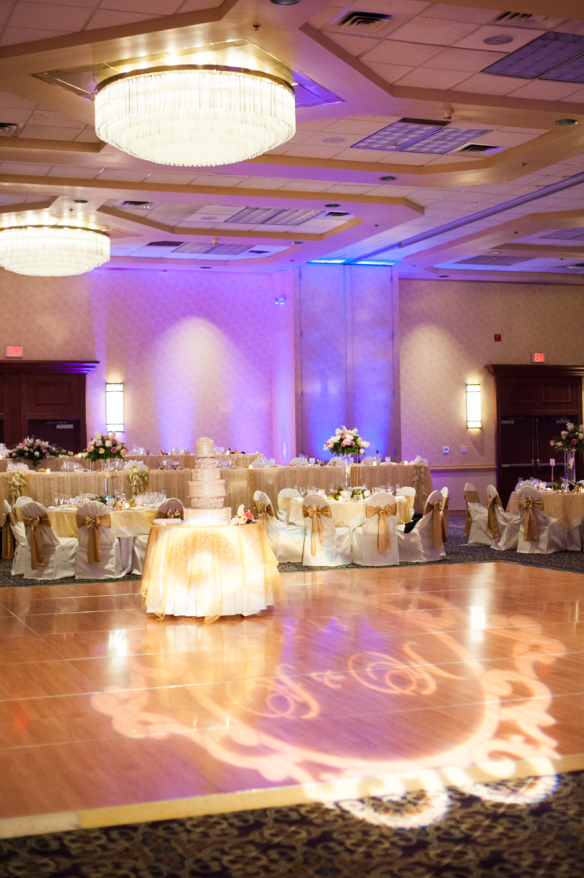 Their ballroom was actually a series of rooms divided by …air walls?
I think that's what they're called?
You know those accordion walls that can open up to create one big room or divide it into smaller sections?
If my description has only confused you, you can see the divider track to the right of the head table in the picture above.
Whatever they're called – accordion bendy thin walls is maybe the technical term? – there was a good chance there would be a wedding reception directly next to us, divided only by those walls.
Am I the only one shaking my head and saying wtf??
We asked about noise and he said they typically ask one side or the other to "quiet down" if they are disrupting each other.
He also said toasts and the like are usually lined up to happen at the same time for both weddings, so it's usually not a problem.
Not a problem??
If I'm writing you a check for your F&B minimum of $18,000, you damn well better believe that
no one
is telling me to "quiet down;" and I'm sure the other bride would feel the same way!
So that was that and the Sheraton wasn't our spot either.
Next up, I'll tell you about our "maybe" venues.
The ones we really liked but needed to compare a little more.
Did any of you check out any terrible venues you nixed right off the bat?