Ok, we've seen the
No Ways
,
the Maybes
, and now we're on to our favorites and I promise to reward you with our venue choices if you make it to the end of this post!
Heinz History Center
I actually toured the Heinz History Center (we're calling it HHC for short from now on due to my laziness, k?) on a lunch break one day and fell 100% totally in love.
Love doesn't even describe it.
Every single option they gave us for our ceremony and reception I
adored
.
For non-Pittsburghers, the HHC is a 6-story Smithsonian-affiliate museum situated inside an old industrial building with exposed brick and giant steel beams everywhere.
It's located in Pittsburgh's Strip District.
They have displays for everything Pittsburgh.
Pittsburgh sports, Pittsburgh history, and a functional library!
The best part is that the rental fee you pay for the space goes right back into the museum.
Here's your venue porn –
This is their Great Hall on the first floor.
It's a wide open space, with a gorgeous staircase that would be perfect for our first entrance to the reception.
The exposed brick, the gorgeous floor, the beams covered with string lights…I love it all!
Our next reception option was the Mueller Center on the 5
th
Floor.
Here it is without any tables or chairs.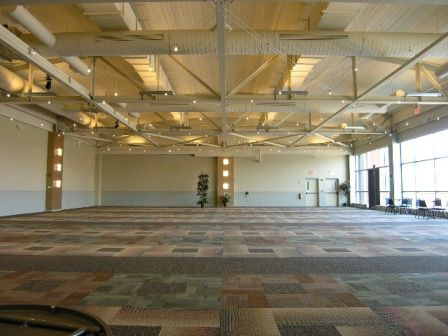 This was an intimidating blank slate room.
But check out that wall of windows on the right!
There is a killer patio right outside those windows that looks over the city.
Here's the room all decked out for a wedding.
Pretty amazing transformation, huh?
Check out the tea lights along the windows… Can you imagine being the guy that has to light them all?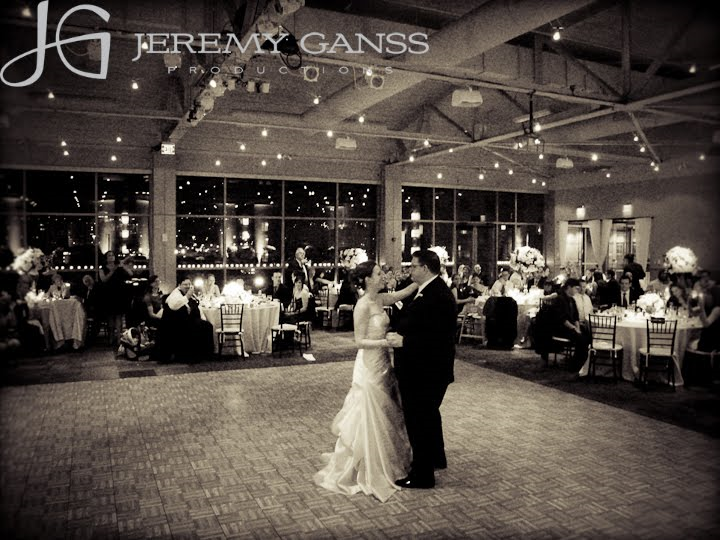 Side note:
Just noticed
a lot
of my sourced out pictures are from Jeremy Ganss.
Maybe I should look into him as a photographer since he's been to all of our favorite venues?
Ok back to the HHC.
And then, there was the final nail in my coffin…the Library.
Since this is an actual functional library, it isn't available for receptions because – as we all learned in elementary school - no food or drink inside the library at all.
Ever.
The HHC's event coordinator, Maura, had me pegged from the start and saved this room for the last stop on our tour.
I walked in and my heart went into my throat and I got a little teary imagining Dude and I promising to love each other forever in front of this window.
Personal Photo
Personal Photo
For ceremonies, these tables are moved and replaced with banquet chairs.
I left the tour; contract in hand, ready to put down our deposit for everything.
I remember I called Dude as I was walking back to work so excited I could barely form complete sentences.
I came home and talked to Dude and we crunched the numbers.
And we quickly discovered that if we wanted our entire wedding at the HHC, we'd need to make some major cuts to our guest list.
Saying I was bummed was an understatement.
I imagined our guests exploring the museum during our cocktail hour. I was already envisioning getting married in that library. And most of all, I had my heart set on downtown Pittsburgh wedding photos.
But then, in my "gotta make it work" mindset, genius struck - if we had just our ceremony at the HHC, our guests would still be able to explore the museum, I'd still get my downtown Pittsburgh photos, and the ceremony bit would actually fit into our budget!
Needless to say, I signed the contract 3 days later and sent over our deposit to have our wedding ceremony only in the HHC Library & Archives.
DoubleTree – Meadowlands
I know, I know, one more DoubleTree.
There's gotta be something in those cookies!!
There were a lot of pros and a couple of cons for this DoubleTree.
First pro – it is literally STEPS from the Meadowlands Casino.
How fun would it be to walk through a casino in your wedding gear??
Now imagine one of my bridesmaids following behind with a bucket that says" Honeymoon Fund" and people just tossing chips into it.
Ok, maybe that last part is a pipe dream.
Another plus about this DoubleTree is that the ballroom rental comes with exclusive use of their covered patio, which is already wired for sound.
So guests can hang out there, enjoy an iPod playlist, and not be forced to hang out in the ballroom once the dance party starts.
Also, my idea of a board game station could totally happen out there.
Catch Phrase at my wedding?
HELL. FREAKING. YES.
The ballroom was like most of the other venues we checked out, with the exception of no thin accordion bendy walls!
Dude was disappointed that there was no natural light in the ballroom, but he said the covered patio was a nice consolation prize.
The only negative about this place is that Dude's bff's wife is the wedding coordinator.
The good thing about this is that I know her already and we've hung out a couple times.
The bad thing is she's going to be a guest at the wedding!
T
he last thing we want for her (and us, if we're being honest) is to have her working our wedding.
I did a side-by-side of costs and we figured that we definitely got the most for our money with the DoubleTree at the Meadowlands.
So we signed the contract and breathed a sigh of relief. We have a space to say "I Do" and a space to eat, drink, and dance. It feels awesome checking those two big ones off our giant wedding to-do list!
How many venues did you visit before deciding on "the one?"
Did you work with any friends to plan your wedding?
Am I an idiot for working with someone I'll definitely have to see after the wedding??