I've gotta start by saying that our engagement was a big shocker to pretty much everyone we know since I've been saying for the past 7 years or so that I didn't ever want to get married.
I guess I lied, because all of a sudden I have a
Wedding Pinterest Board
, have plans to go dress shopping next month, and have suddenly started thinking about guest lists, favors, wedding songs and showers, and all sorts of girlie things that I never cared to think about before...
In any case, for posterity's sake, since I know I'll forget all the sweet details, I wanted to share our engagement story.
Before I get into everything, I'll give you what you've been waiting for. THE RING: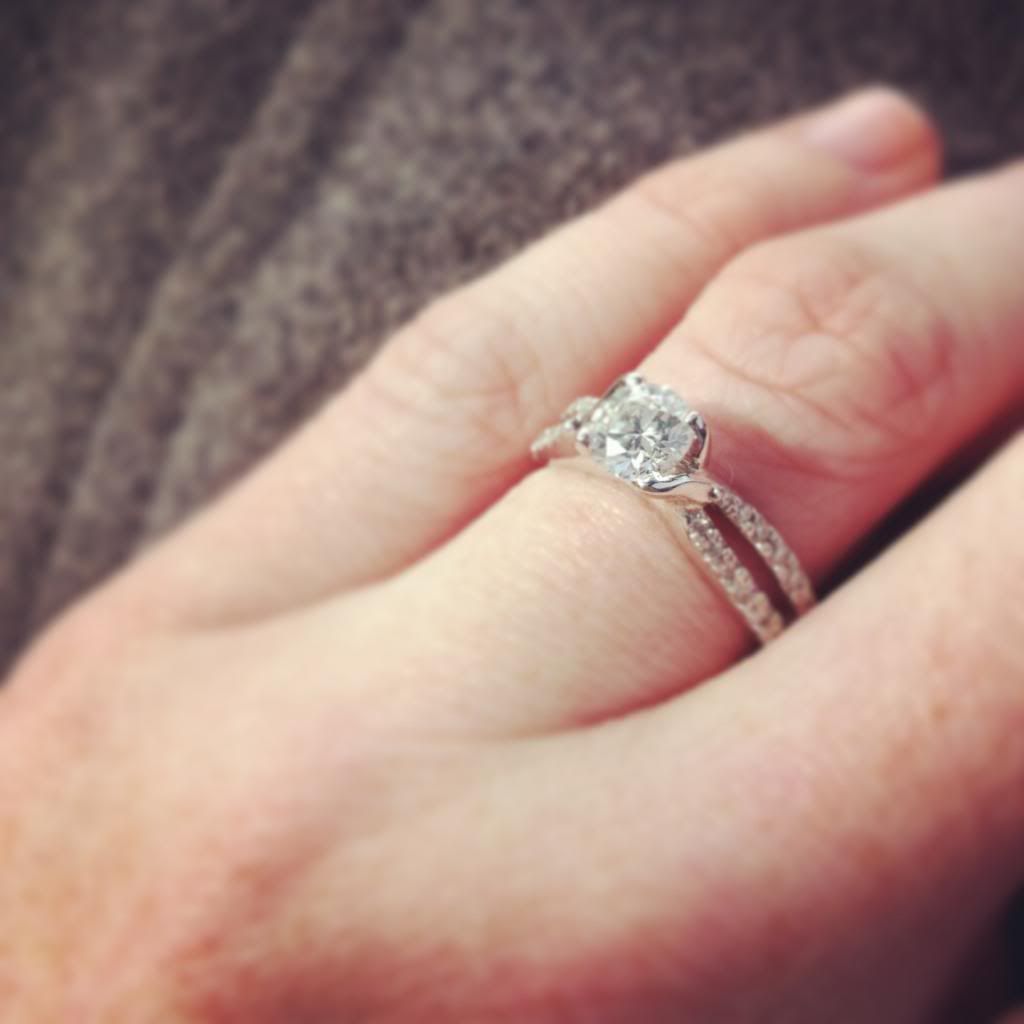 Personal Photo
December 21st started out pretty normal, especially considering the world was supposed to end. My office holiday party was that afternoon and our friends Mike and Brandi were in town from Arizona and we had plans to hang out with them after the party.
I got a couple of texts throughout the day; and told Dude to meet me at my office party at 5:30 and we'd meet up with Mike and Brandi from there.
He was on time, came in to the party, I introduced him to everyone as my boyfriend, did a shot with one of the managers and then we left.
Dude told me as we were leaving that Mike and Brandi wanted to check out the Incline.
Here's the incline on a normal Pittsburgh day.
So Dude and I headed to the Incline, parked; and Mike and Brandi were nowhere to be found. Dude called Mike; and from hearing one side of the conversation, I could tell they were at the top of the incline, not meeting us at the bottom to ride up together.
We rode the car to the top and I remember saying "I freaking love my ciiittyyy!!!" I may or may not have been a little tipsy...
Eventually, we got to the top and there is literally NO ONE there. Mike and Brandi are nowhere to be seen. So Dude kind of dilly dallies around and I asked "Are you sure they're not at the
other
incline??" He looked at me and goes "Oh yeah...yeah.... that's probably exactly where they are!!"
Dude's Note: I was unaware there were two inclines until that exact moment.
We decided to head back down and meet them at the other one and just go to dinner. We got into the car and I remember making idle chit chat for a bit about how pretty Pittsburgh is. When we finally reached the bottom, Dude asked:
"Do you want to get old with me?"
He asks me this all the time, and I said, of course, while still looking out the window away from him.
He goes, "No, seriously. Will you marry me?"
I looked over and he was on one knee, with the ring box on my knee. And I said, (perfectly crafted, remember?)
"WHAT?!!! WHAT!!!"
It took me a minute before I could finally say yes, but I did (obviously, I guess, huh?)
Then he goes to slide the ring on my finger. It doesn't fit. Not even close, it won't go past my second knuckle.
I put it on my pinkie and off we went to meet Mike and Brandi - who were in on the whole thing and were never even remotely close to Mount Washington! I knew it!!
Dude told me in the car on the way to dinner that he had been planning on asking me to marry him since May; but in typical Dude fashion, everything went wrong.
First, he was never able to get my parents alone to ask for their permission. I'm clingy, I guess!
Then, when he finally got their permission in September, he asked my Mom to help him find out my ring size. In October when my parents came to help me paint our kitchen cabinets, she attempted to figure it out and she clearly failed!
Back to the story - we drove around for a bit enjoying being newly engaged and then we went to meet up with Mike and Brandi for dinner.
I walk in and ALL of our close friends are there. Dude gathered them all together for me, for sort of an impromptu engagement dinner. We ate, we drank, and we laughed. And like an ass, I didn't get a single picture!!
The next morning, we headed back to my hometown to celebrate pre-Christmas with my family.
I couldn't have asked for a more perfect proposal weekend!
Now, tell me your engagement stories! Were you surprised? Were your friends in on it? Most importantly, did your ring fit?